Book One
Fun With Dick and Shane
Memoirs of a Houseboy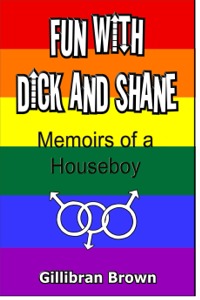 The book that started it.
chapters listed below are included along with daily utterances.

The Homecoming Story

A Sad Sorry Tale Of Whatever
A Fitting Little Warning
A Life In The Day Of Wednesday
Book Two
More Fun With Dick And Shane.
Memoirs of a Houseboy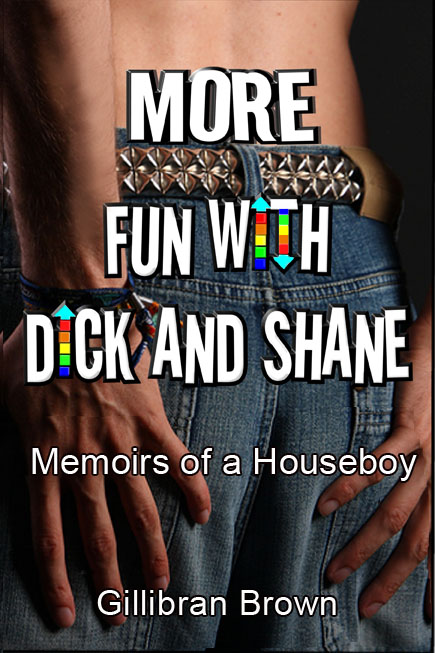 As with my first effort I've endeavoured to write up and round off events that were mentioned but not properly followed through at the time. I've enjoyed it. I hope you do too. As well as daily mumblings it includes the following chapters.
The Houseboy Gets Sent To The Naughty Chair
The Houseboy And The Butterfly
The Houseboy Strikes Back
Ginger
The Derailment Of A Houseboy...A Train Journal
Put Your Ear Down Close To Your Sole And Listen Hard
A Tiny Tale Of A Bad Boy's Sunday
Read an excerpt from More Fun With Dick And Shane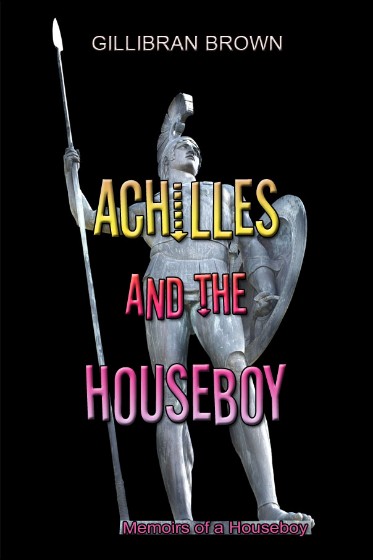 Book Three
ACHILLES AND THE HOUSEBOY
Memoirs of a Houseboy

This rightly belongs with my 2007 memoir, but I decided to give it a book of its own. It's all about Dick and Shane's Civil Partnership, which was nothing to them, but a pretty big deal to me.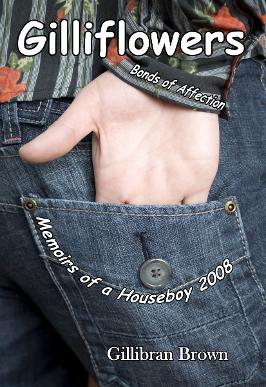 Book Four
Gilliflowers
Bonds of Affection

Also available on Amazon and Amazon UK

437 pages
143143 words (gobshite or what!)
Gilliflowers -

Bonds of Affection


'Think of me as a gay male version of Flora Thompson writing not so much about Larkrise to Candleford as Arsehole to Breakfast Time. The BBC will never commission it as a series, but there you go, it's their loss.'


Chapter List
Frail Daffodils for the Ancient Dead
Fish Tale
Shane's Birthday Dinner Report
Post Scriptum
Jottings on a Saturday Afternoon in February
Easter Bleatings
Gilliflowers
Fall Out Boy
Dance Dance
Not the Man from Del Monte
Hard Limits
It's Lee's Party and I'll Cry if I Want To
Captain Pugwash and the Bank Holiday Mutineer
Birthday Annotation
Summer Bridge
Who Knows Where the Time Goes

Gooseberry Fool
Autumn Fall
Your Sins Will Find You Out
Waking the Chihuahua
Day of Reckoning
Glass Beads
The Winter Houseboy

Bits & Bobs
Coming 2023????

Possibly?

Fingers Crossed eh!

Story list so far:
Skint
A Shit Bit
Kiss my Arse...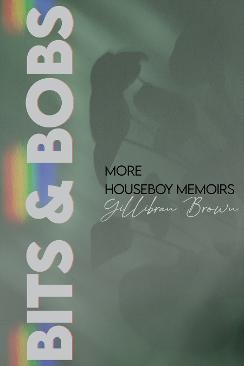 OCTOBER 2021

I know! I fucking know! At long last. Miracles can happen.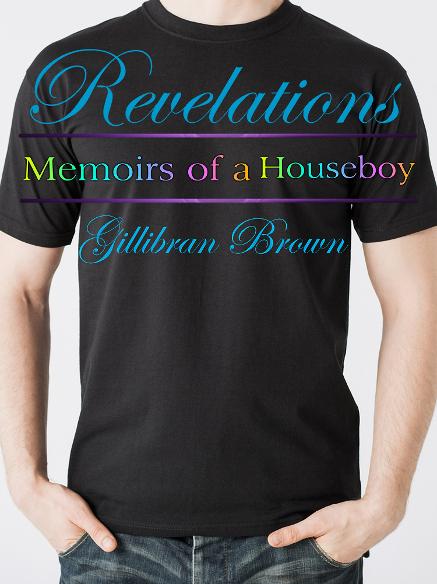 Story List:
Preface
Home Again, Jiggety-Jig

Auld Lang Syne
Hobo Dancing

Bastard Craig
Round Up

When George Michael Sings
End of Days

Requiem Revelations

Bad Blood

Another Round Up

Seed Sowing
Annus Horribilis - Overview
Rocks Under Tide

Hitting The Reset Button

Summerhouse Summary
Annus Horribilis - Annulled

There is a paperback version available on Amazon
A kindle version also.

In answer to a recent question:

I'm very grateful that anyone should choose to purchases my ramblings. Where you choose to buy is entirely up to you, whatever suits you best. Thank you for wanting to buy and read.
I will say this - I believe Smashwords is a more honest friend to self-pub pundits such as myself. I believe they have more respect for authors than Amazon does and they pay a fairer royalty.

October 2017
Snakes and Rattters
Another separate serving of houseboy witterings
I bring you Snakes and Ratters -

a tasty morsel sandwiched between a couple of other regurgitated light bites.

Enjoy!

December 2016
The Winkle On The Bus
And Other Stuff
Presenting yet another stand alone chapter of memoir to appease those STILL waiting for 'Revelations.'
Call this a way of getting back into the practice of writing or call it chronic procrastination. The 'winkle' in the title refers to an incident earlier this year, the other stuff is, well, other stuff.
**
The winkle on the bus 'adventure' (such as it was) happened one day in February 2016, but like most things in life it was part of a butterfly effect* rather than a truly isolated event. Its origins come under the remit of 'other stuff' and stretched back to the previous autumn, October 2015, so that's where I'll start. I've run out of magic glitter (never fear, Peeps, it is on order) so we'll have to rely on the Dorothy from Kansas mode of travel for this memoir chapter, so dig out your ruby brogues and slip them on. Don't worry if they pinch a bit. I've got Compeed plasters in the event of blisters. Got the shoes on? Great, let's go then. Everyone hold hands, close your eyes and start clicking those heels together. Travel back with me. It won't take long, you'll be back in time for tea and there's no danger involved so you won't need insurance.
*Disclaimer: use of the term 'butterfly effect' does not mean Ashton Kutcher features anywhere in this account. Sorry, Peeps, I did try to hire him as a guest star, but his fees were too high for this humble houseboy.
SMASHWORDS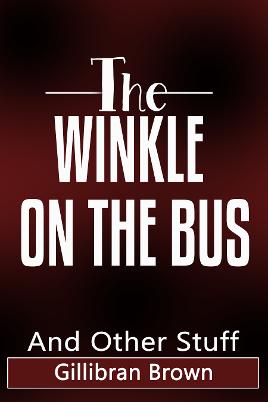 August 2015

Ahem, adopts best Ringmaster's tone:

Presenting, for your delectation (I hope)

THE SNAIL AFFAIR

A humble stand alone chapter of memoir to appease and tide over those houseboy fans eagerly awaiting the publication of my next full-length work 'Revelations.' Whenever that might be! Patience, people, patience! ;-)The Snail Affair deals with a more recent incident in this boy's life, taking place, as it does, in July 2015. An old adversary drops in for a visit after Shane makes an announcement at breakfast one morning.


Click on the cover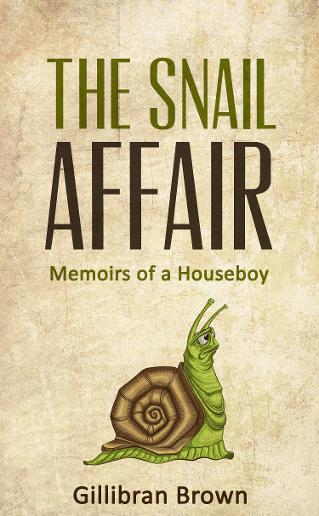 A
2014

Christmas at Leo's does exactly what it says on the cover. It tells the tale of Christmas at Leo's, 2008.
In essence, I suppose it's a bridge between 'Gilliflowers, bonds of affection' and pending, very pending, memoir 'Revelations.'
~~~~~~~
I wasn't looking forward to spending Christmas as part of a house party at Leo's place to begin with. The booze ban had taken the lustre right off the party season for me.

What's Christmas without a flagon of ale or a classy glass of fancy fizz? Boring!

A visit to my mother, on the day before Christmas Eve, did nothing to lift my mood. It triggered a welter of memories and emotions that made Christmas seem even less appealing.

Stuff the season of goodwill.

I just wanted to be left alone to brood. I wasn't given the choice. I was spending Christmas at Leo's whether I liked it or not. It proved to be eventful in its own way.

Details within.

Gillibran Brown
~~
Ebook Editions -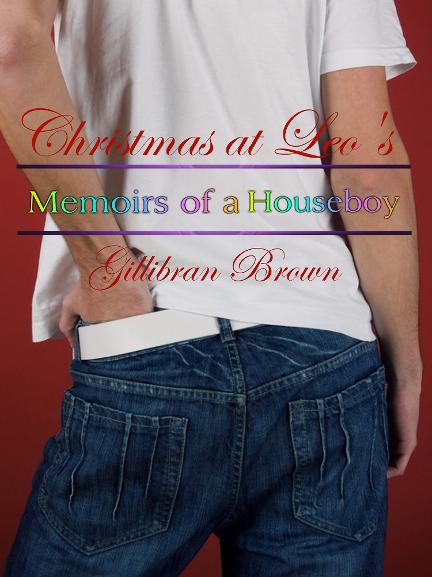 Book Five
Memoirs of a Houseboy
Christmas at Leo's

Chapter List:

Party Pooper Pepsi

Intersections

Birds Trifle

My Everly Brother Summer

Daddy In Charge

Stuffing

Vienna Boys

Comedians

A Child Is Born

Smorgasbord

Un-Sweet Revenge

Puzzle People

Truffle Trouble

Echoes and Shadows

Christmas Day

Bondage Day

Prawn Again Crustaceans

Breakfast Blitzkrieg

Stink

Kink

Wrap

~~~~~~